SENIOR STAFF
Jackie Kelly
CHIEF EXECUTIVE OFFICER
BNurs, MLD, Dip. HR.
Jackie joined Benalla Health in 2022 with a wealth of experience within the health sector.

She holds a Bachelor of Nursing, Diploma of Human Resource Management - Communications and a Masters of Leadership and Development and has worked at a hospital level as a nurse and in management throughout her career.

Ms Kelly started her nursing career in her native New Zealand before moving to Australia to take up the position of General Manager with EACH, a community health provider in metropolitan Melbourne.

She was at the helm of EACH for 12 years before moving to the position of Chief Executive Officer of Heywood Rural Health for more than two years.

She then was CEO at Moyne Health Services.

With a proven track record of strong executive management background, Ms Kelly is keen to work with the Benalla community to use feedback to continue to grow and strengthen the health service.

Phone: (03) 5761 4209
Fax: (03) 5761 4246
executive@benallahealth.org.au
---
Vacant
EXECUTIVE DIRECTOR OF FINANCE & CORPORATE SERVICES
The Executive Director of Finance & Corporate Services (EDF&CS) is responsible for the finance and administration, ICT, health information, supply, linen and hospitality departments.
They also provide leadership in the management of financial and corporate support services.
Phone: (03) 5761 4224
executive@benallahealth.org.au
---
Lisa Waite
RN, RM, Bachelor of Nursing, and currently studying Masters Of Health Administration.
EXECUTIVE DIRECTOR OF CLINICAL SERVICES
Lisa joined Benalla Health in August 2022, after having worked at GV Health for 3 1/2 years.
An experienced Registered nurse and Midwife, Lisa brings extensive experience in leadership roles in health.
The Executive Director of Clinical Services encompasses leadership of clinical services, clinical governance, clinical leadership and standards of practice, service and strategic planning, clinical risk management, quality improvement and resource management.
Phone: (03) 5761 4214
Fax: (03) 5761 4246
executive@benallahealth.org.au
---
Dr Ken Cheng
DIRECTOR OF MEDICAL SERVICES
MBBS, BMedSc (Hons), MBA, M Com (Dist), MHM, MPH, FRACMA, FCHSM, CHE, MAICD
Dr Cheng joined Benalla Health in 2017-18, and from 2021.
He has a wealth of knowledge and experience as a Medical Administrator/Board Director in metropolitan, regional and rural healthcare sectors, both in Australia and overseas.
He is currently engaged with Albury Wodonga Health, Yarrawonga Health, RACMA, and several healthcare-related external groups.
---
OPERATIONAL DIRECTORS
Vacant
OPERATIONAL DIRECTOR PEOPLE & CULTURE
The Operational Director People & Culture is responsible for driving organisational excellence by providing strategic leadership and operational delivery of people and organisational development functions and services for Benalla Health, including management of Employment Services, Employee Relations, Industrial Relations, Organisational Communication strategy and Health and Safety, Wellbeing Services and Injury Management programs.
---
Fiona Coad
OPERATIONAL DIRECTOR CONTINUUM OF CARE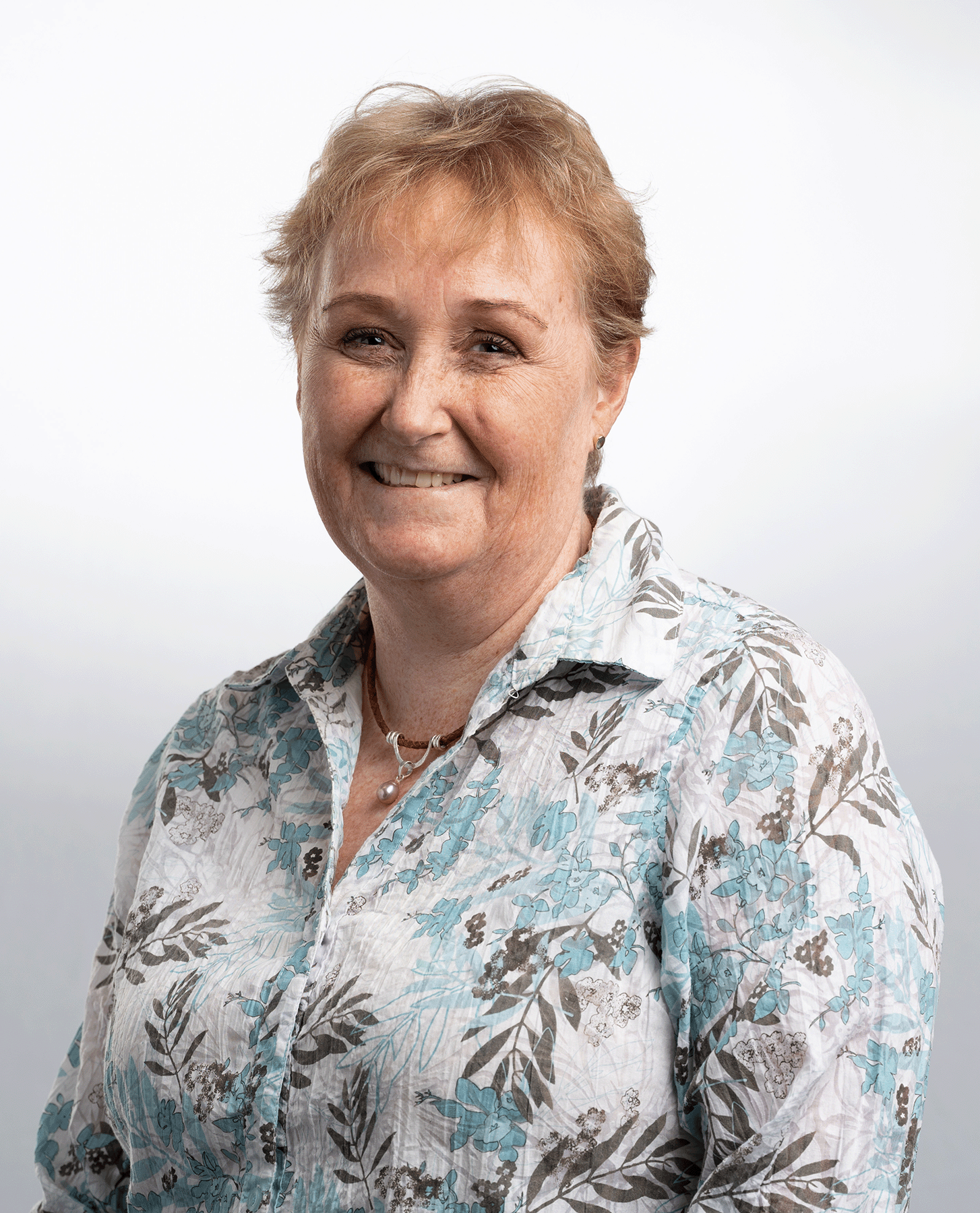 Fiona commenced at Benalla Health in May 2022.
Fiona is a Registered Nurse and Midwife and has extensive experience in nursing and midwifery in rural and regional areas. She brings a wealth of knowledge and sound experience to our leadership team.
The Operational Director Continuum of Care provides leadership for the clinical services team, ensuring high standards of clinical care are met. They are also involved in the coordination and management of operational activity at Benalla Health.
---
Cara Hammond
OPERATIONAL DIRECTOR PERFORMANCE IMPROVEMENT
The Operational Director Performance Improvement (ODPI) supports excellence in clinical governance and clinical risk management and facilitates advancement and innovation in both models of service and workforce development. They also provide oversight of organisational compliance with quality standards, provision of a comprehensive staff training calendar and suite of professional development resources, and of the facilitation of educational and other performance improvement partnerships, collaborations and agreements. The ODPI is accountable for education, research and quality services, including reconciliation of training and quality related grants; and in collaboration with People & Culture, implements strategies to support workforce capacity, capability and consistency in practice.
Phone: (03) 5761 4256
education@benallahealth.org.au
---
Greg van Popering
OPERATIONAL DIRECTOR HEALTHY COMMUNITIES
RN, BN, Dip. Management, Post Grad Diploma in Advanced Clinical Nursing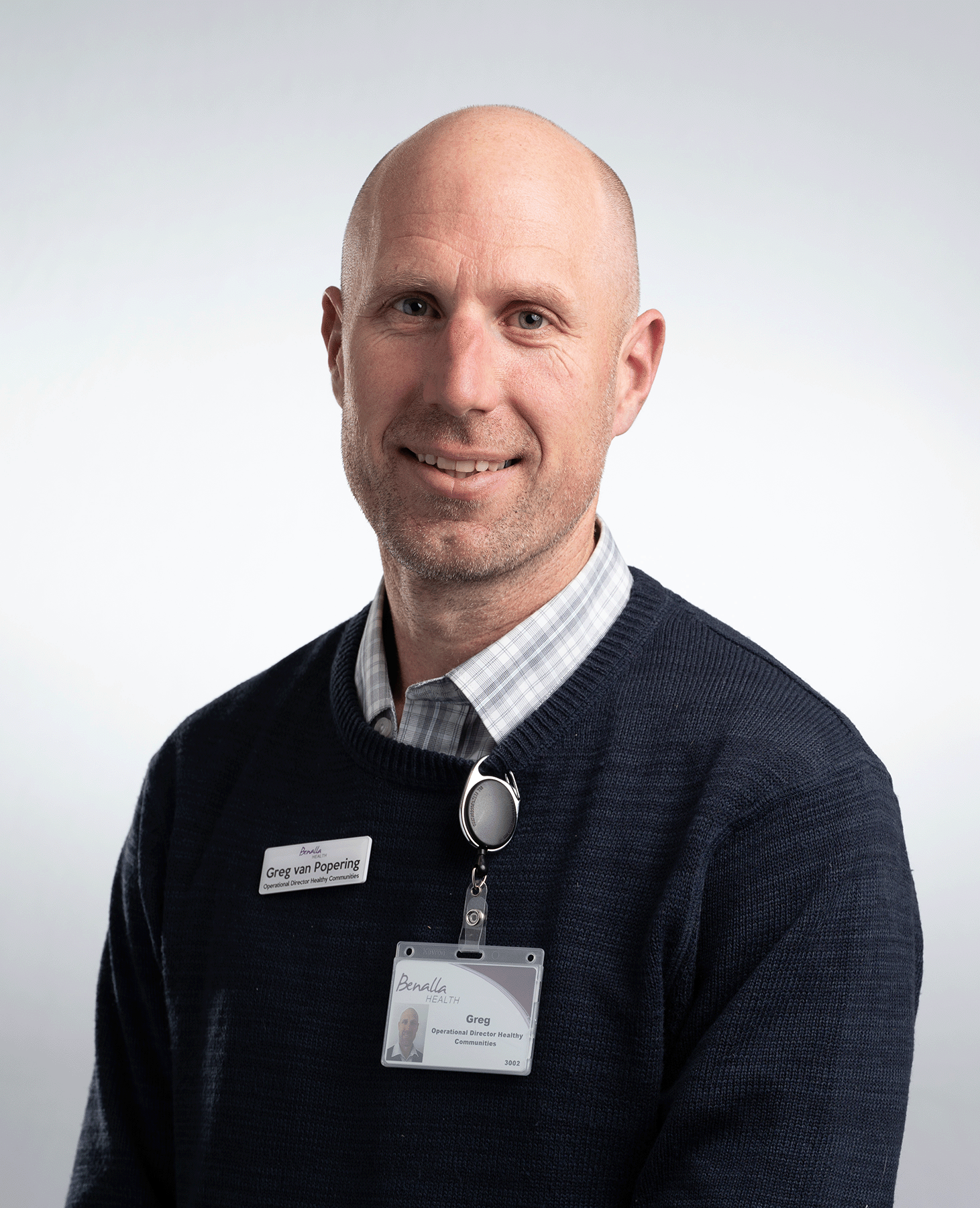 Greg commenced at Benalla Health in June 2022. Greg is a Registered Nurse and has a broad range of healthcare experience in rural and regional areas for over 20 years.
Greg has extensive management experience and has worked in acute, aged care and community leadership roles at NCN Health and GV Health.
The Operational Director Healthy Communities (ODHC) has responsibility for the development, provision and advancement of Benalla Health's Healthy Community programs and services. The ODHC is responsible for ensuring programs are sustainable and within budget and for promoting and facilitating programs underpinned by the principles of best practice, health promotion and the social determinants of health and for ensuring programs maximise consumer / client self-determination in their healthcare outcomes.
Phone: (03) 5761 4500
benallacommunitycare@benallahealth.org.au